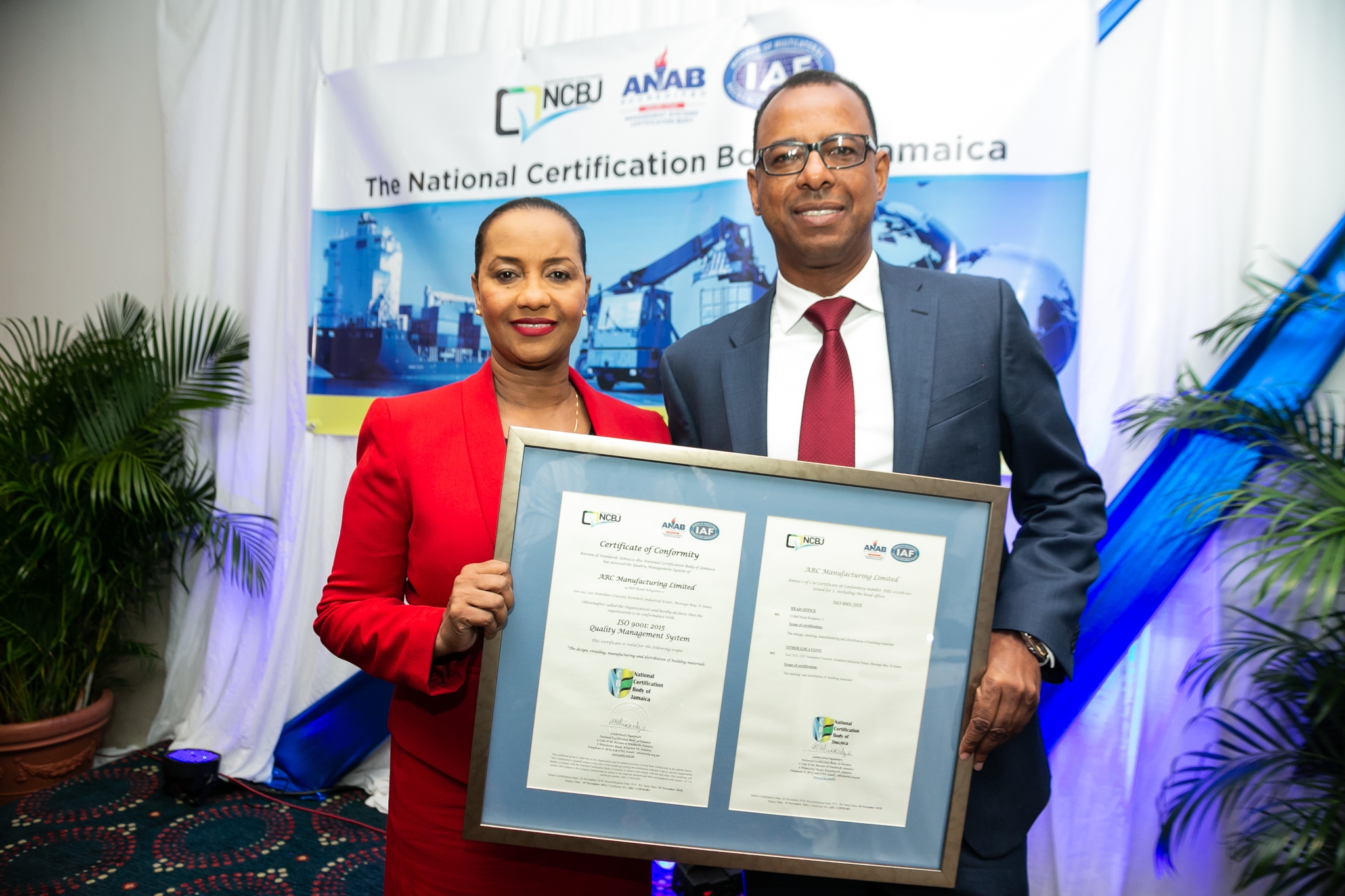 Following a rigorous and extensive series of company-wide audits by the National Certification Body of Jamaica (NCBJ), ARC Manufacturing Limited has been awarded the International Organization for Standardization (ISO) 9001:2015 certificate of conformity for its comprehensive quality management system, the company has announced.
This ISO certification signifies that ARC Manufacturing Limited has demonstrated its ability to consistently provide products and services that meet both customer and regulatory requirements.
In the release, the company said the certification augurs well for consumers' confidence that ARC's products and services are safe, qualified and reliable.
Given the company's burgeoning efforts towards the export markets, Executive Chairman of ARC Manufacturing Limited, Norman Horne, stated that this ISO certification could not have been a more opportune achievement.
"There is tremendous potential in the export market for building materials, and ARC strives to take advantage of this," Horne stated. "This ISO certification is globally recognised and respected, so we have no doubt that this will enhance the competitiveness of our business, and provide credible proof that the products and services meet acceptable global standards."
Horne continued, "This achievement is a testament to the hard work of the team at ARC, and our commitment to providing our customers with product and service consistency. We have been doing business for over twenty years, and throughout that time, we have worked tirelessly on continuously improving our processes, and investing in the most efficient systems for the business. So I'm very excited about the prospects that this brings."
The certification comes on the heels of ARC's recent victory at the first annual Jamaica Manufacturers and Exporters Association Awards Gala, where the building materials manufacturer copped the NCBJ Quality and Standards Award.
Over the past 18 months, ARC said it has been focused on reinforcing the company's culture of quality among its employees with regularly-held awareness trainings and seminars, ISO awareness sessions, internal auditing and other related sensitisation efforts.
Michelle Sturridge, Manager at NCBJ, congratulated the manufacturing company on its achievement, saying: "ARC Manufacturing Company Limited, achieving ISO 9001:2015 Certification, is commendable, as there is a need for more Jamaican Manufacturers to increase their efficiency and productivity while they play a pivotal role as major contributors to wealth creation, employment and sustainable development for the country. The ISO 9001 certification will contribute to the greatness of this organization as it seeks to compete in the local and international sphere."
Published by Loop News.