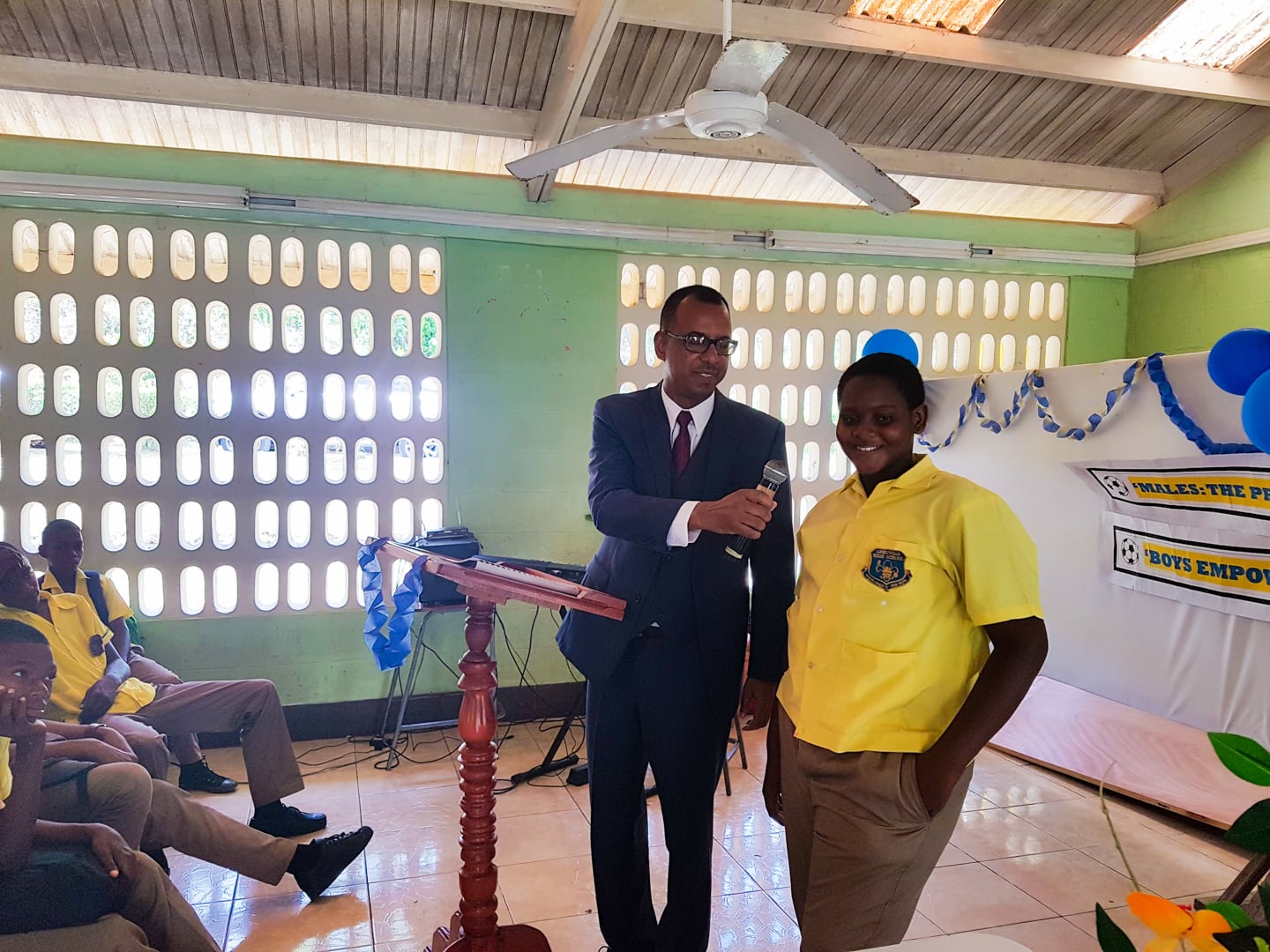 [vc_row][vc_column][vc_column_text]Kingston, Jamaica—Wednesday, 6th June, 2018: The male students at the Lewisville High School in New Market, St. Elizabeth got what could be considered a glimpse at their future, when local businessman Norman Horne visited their school as the keynote speaker at their Boys' Empowerment Day event.
Horne, who was born and raised in Junction, St. Elizabeth, is the Executive Chairman of ARC Manufacturing Ltd, one of the largest manufacturers and distributors of building materials in Jamaica.
At the event, which was themed, 'Males, the Pride of Society', Horne spoke on the issues affecting young men today. "While they may be a bit different today, the challenges facing our schoolboys are not new," said Horne. "If we want them to avoid becoming victims to these things, we must ensure that we coach and mentor them to identify their passion and purpose and strategies to achieve it. Many of them do not know the first step to achieve their goals because they lack direction, become misguided, and get involved in the wrong things."
Horne also addressed issues such as underage drinking, gambling and sexual activity, all of which he says are 'stealing the attention' of the boys because they are not focused and lack discipline.
"Many of our boys today do not know what they want to do with their lives," Horne observed. "They are simply going through the motions with school and classes and not really working towards a specific goal or aspiration, so there is no real motivation. But if we help them to identify their goals and passions and to chart a route to get there, they would be encouraged to stay focused and persistent and avoid many of the everyday challenges facing today's youth."
The Junction High School (now B.B. Coke High School) past student added: "A number of our young men will tell you that they want to be a doctor or a soldier but they do not know the first step to become one. They do not know the entry requirements for JDF nor do they know what they need to do when they leave high school. So we have to guide them, ensure that they set their goals and stick to the plan as closely as possible."
Seventeen-year-old Richard Baker, deputy head boy at Lewisville High School, and aspiring Minister of National Security, noted, "Mr. Horne really gave us some good advice today, especially when he spoke about preparing our dream career. For me, there's a lot that I want to achieve, and to get that kind of advice from someone who, like me, was once a young man from St. Elizabeth, I'm really inspired and motivated to take a second look at my goals and see how well I can work towards them."
The session was attended by over 200 male students at the Lewisville High School in New Market, St. Elizabeth recently. Horne is a former Government Senator and has served on several corporate Boards including JAMPRO, the National Housing Trust, and the Jamaica Manufacturers Association. Today, he is the Executive Chairman of ARC Manufacturing Ltd. leading the 22-year-old building materials company on a path of continuous growth and success in the Manufacturing industry. An entrepreneur at heart, Horne has also started and led a number of companies over the years, utilizing best practices he learnt while working both locally and internationally.[/vc_column_text][/vc_column][/vc_row]